Easy!
1-Create An Account
2-Fill out the FBN Internship Host Offer Form to create an offer!
3-Get ready to receive applications!
or if you already have an account log-in and create a new internship offer here
WHAT IS THE INTERNATIONAL INTERNSHIP PROGRAMME?
The Family Business International Internship Programme offers families in business the opportunity to host Next Generation members for one to six months work experience.  Internships are a great way for hosts to gain a useful project-resource whilst also "giving back" by providing experience to someone from another business-owning family.  In many cases a bond is formed between families that can last for years.
We want to make the process of being a host and becoming an intern much more comfortable for our users, by providing a better overview and enhanced user-friendliness. As a host company, you will have complete control over offers and levels of visibility. In order for us to provide this good and ensure that the program continues to flourish, we are dependent on members like you that are willing to seize the opportunity, by having dared to become hosts and being an example to other potential host companies.
WHAT WILL I BENEFIT AS A HOST?
Being a host facilitates special encounters all around the world, were members can build a long-lasting connection with other business-owning family. As a host you get to see your own family through fresh eyes. You can also gain a useful project resource, with whom you can trust and turn to if need be, concerning future confronts. We therefore hope you enjoy this exciting new platform and it makes being a host the most exciting venture it can be.  Here's what you can benefit from this program as a host:
• Gain a useful project-resource and a fresh perspective from a young pair of eyes.
• Build a deep connection with another business-owning family.
• Shape the future of a potential leader of another family business.
• Encourage your own Next Generation by allowing them to interact with a young person in a similar ownership situation.
WHAT CAN I OFFER?
An internship in another family-driven company is a unique chance and privilege, made possible by hosts like you. This opportunity is extremely valuable for our members, and mutually rewarding for both the host institutions and interns.  Check out previous testimonials and videos from participants in our Host Testimonials and Intern Testimonials.
We recommend creating an internship position that will be beneficial and sustainable for your company.  Once you begin filling the FBN Internship Host Offer Form you will see how flexible the terms are.  You can decide the duration, language, department, salary, accommodation among many other items.  Make sure the terms you put forward are suitable for your family business.
WHAT ABOUT SALARY AND EXPENSES?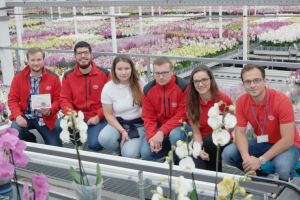 Internships are primarily a way to gain experience and this is reflected in the level of payments, which range from a living allowance to a small salary. The programme leaves conditions to be flexible, as it works best when the host company agrees them with
the intern.
WHAT ABOUT ACCOMMODATION?
Interns appreciate the support of hosts in finding and settling into accommodation. In the past, some interns have stayed with the owning family and others have stayed in rented flats recommended by the host company.
WHO IS A TYPICAL INTERN?
Interns are usually between 18 and 30. Many are students or recent graduates aged 20-22 looking for vacation projects. More often their primary aim is to gain experience and discover new cultures. Some interns are in their mid- to late-20s and are taking a break between assignments to broaden experience beyond their own family's business and seek for a better understanding of how other family businesses works.